About Accumetric LLC.

Quality conscious companies from all over the world have come to rely on Accumetric, LLC® for the finest sealants, adhesives, custom compounded products and custom packaging services. Our customers have confidence we will more than meet their expectations.
Accumetric, LLC® is experienced managing strategic partnerships to achieve customer's goals. With over 40 years of experience, thousands of formulations have been packaged for companies ranging from small startups to Fortune 500 companies. Most major domestic sealant and adhesive manufacturers already use our services. Looking for custom packaging possibilities? Let Accumetric's on staff engineers assist with your project.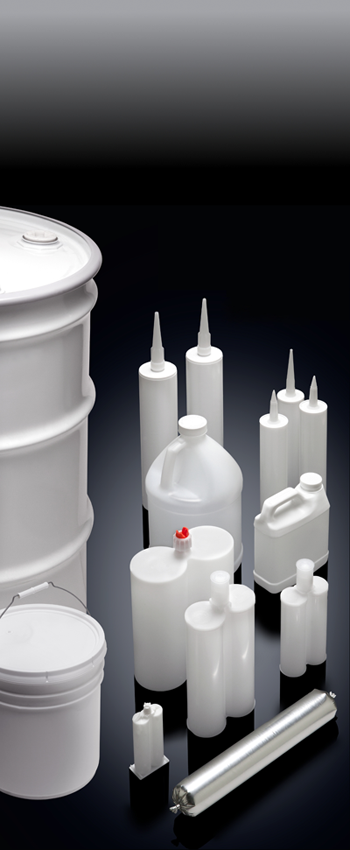 If it is "pumpable," we can package it.
Quick Facts
An ISO 9001 Certified Company for over a decade
Order-Entry Efficiency Rate is 99.8%
On-Time Delivery Rate is 98.5%

Lot tracing software tracks all packaged product
Real-Time Customer managed inventory

Over 1000 unique SKUs managed
Custom colors matched to over 2500 substrates in three different chemistries
International Divisions shares our products and services in over 70 countries
We deliver the complete package!
Complete Package
Product and Package Development
Available to assist from a projects conception to completion
Assist in searching and sourcing compatible materials and packaging

Suggest containers best suited for the application and materials characteristics
Design custom carton solutions

Providing lab samples for evaluation and testing
Offering small runs for market evaluation
Operation
200,000 sq ft manufacturing and packaging facility
Worldwide reach with offices and warehouses in Bangkok, Dubai and a manufacturing facility in India
Class 1 Div 1 Packaging Room

Manual and Totally Automatic filling and blister packing lines

In-house state of the art Research and Development Lab

In house printing capabilities for bar coding, lot tracing and DOT labeling
Color printed or color specific labels
Warehouse
In house full service distribution systems:

1,000,000 sq ft of sprinklered warehouse

On-Demand Inventory and Lot Tracking Systems

Red Label Storage Facility for flammable materials
Walk-in Cooler for materials requiring controlled temperatures
Blind drop ships direct to your customers
Kentucky location within 2 days shipping to 75% of the US population
Our Services
Technology Services
Customized Tech Portals
Log-in protected site for customers
View outstanding PO's, inventory and shipments
View open orders and production status
Transmit information with EDI, FAX, Webforms, AS2, and In Network Translation
Dedicated IT Staff available for troubleshooting
Specialized Services
In house graphics team to create, modify or arrange existing artwork
Chromameter matched custom sealant colors
Degassing and nitrogen purging capabilities when blending and filling
Turn-key Solutions
Accumetric's catalog of hundreds of proprietary adhesive and sealant formulations and with the multitude of packaging and filling capabilities most private label application and package requirements can be fulfilled
Currently Equipped To Fill
Cartridges
Tubes
2-Part Cartridges
Cans
Bottles
Sausages
Pipettes
Blister Packing
Pails
Quarts
Jars
And More...
Our Current Chemistries
Acetoxy Silicones
Neutral Cure Silicones
Acrylic Latexes
Hybrids
Cyanoacrylates
Anaerobics
Polyurethanes
Polysulfides
Greases & Compounds
Methacrylates
Epoxies
And More...